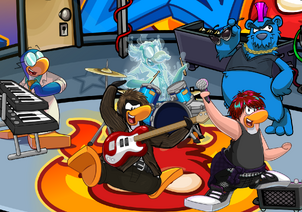 Aliens & Stuff
are an American British nerd rock band based in Club Penguin.
Formed in 2015, the group is known for their use of unusual instruments and catchy, yet difficult to understand lyrics.
As of August 2016, they have released one studio album, an EP and an unreleased demo.
Aliens & Stuff was founded in 2015 by Gary Somerville and The Doctor. Neither had ever been in a band before or had much musical experience. Gary's great uncle Gariwald Somerville joined the project soon afterwards, and they released a demo a few weeks later. Since they did not yet have a professional singer, Gary took on the role, but due to his terrible vocals, the album was rejected by multiple record lables and the project was abandoned.
In early 2016, the band regrouped and brought in two new members, Pixie Gryffin (lead vocalist) and Sherbert D. Bear (various instruments). Pixie was originally meant to play the cowbells, but after hearing her sing in the shower, Gary decided to give her the position of lead singer. Shortly after they released a self titled EP which contained 4 songs and some of Gary's original demos.
In May 2016, the band released their first album Look to the Stars which was met with mostly positive reviews.
In November 2016, the band announced their second studio album, Dashing Through Space: A Very Nerdy Christmas which is slated for release in December 2016. Gary has stated that, "the album will contain original songs along with Christmas classics, with a twist..." The first single All I Want For Christmas Is Coffee was released on November 1st 2016.
Musical Style
Edit
Much of the band's unique musical style comes from their use of unusual instruments, and Sci Fi and fantasy centered vocals. While their style is commonly referred to as "nerd rock", Gary often classifes it as "Coffeeandguitarsandaliensandstuff rock"
Band Members
Edit
Current Members
Edit
Discography
Edit
Gary's Dorkalicous Demo (2015) (unreleased)
Aliens & Stuff (EP) (2016)
Look To The Stars (2016)
All I Want For Christmas Is Coffee (single) (2016)
Dashing Through Space (2016)
Community content is available under
CC-BY-SA
unless otherwise noted.