Gary's
inventions.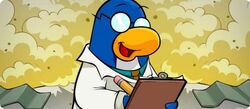 Functional Inventions
Edit
Net Launcher 1000 (Launches a net a penguin, useful for capturing enemies, and also handy for stopping Rookie from flying around the HQ)
Penguin Personality Switcher 3000 (Switches the personality of a penguin. Was once used to switch the agents personalities.)
The Cheese 3000 (It's a cheese with 3000 written on it) 
The Gary Bear 3000 (a teddy bear that looks like Gary, was made as a present for Pixie)
The Fire Blaster 3000 (Anything it shoots catches on fire)
The Come to Life 3000 (Brings video game characters to CP, also a present for Pixie)
Glasses Cleaner 3000 (Looks like a set of mini windshield wipers)
Relaxatron 3000 (Penguin Version)
The Aqua Grabber (Though water does leak into it)
The Pizzatron 3000
Failed Inventions
Edit
Paralyzer 3000 (Was stolen by the RPF)
Net Launcher 2000.0 (Was stolen by the RPF)
Iceberg Tipper 1000 (Caused the Iceberg to explode)
The Pants 3000 (Failed by exploding, and caused some very awkward injuries. )
Clone Maker 3000 (The invention itself worked perfectly, but it's considered a failure because of what happened afterward...)
The IDK 1000 (Even Gary himself wasn't sure what it was supposed to do)
Ski Lift 1000 (It went too fast for penguins)
Toaster 1000 (It launched toast at penguins)
Orange Juice 1000 (It blew up an igloo)
Cat-epult 1000 (Killed tens of innocent Cat Puffles during testing)
Literal Daytron 3000 (The device worked, but blew up, so it was literally irreversible)
The Four Hundred 400 (All the clones turned evil)
Test Subject 1000 (Refused to have tests done on it)
Ice Cream Trekker (It blew up the Ice Berg)
The Iceberg Bomb 3000 (Created in an attempt to remove Meg from the iceberg for testing. It somehow blew up the Dojo instead)
Invisible Thing Nobody Can Locate 1000 (Nobody could find where Gary placed it)
This is a list of all of
Community content is available under
CC-BY-SA
unless otherwise noted.