If this is not what you are looking for, check here. This episode is called...
Donut mess with donuts
Roleplay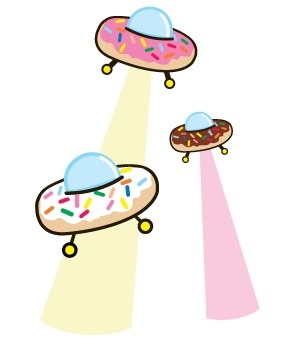 A spaceship that looks strangely like a donut crashes into ski hill...
Meanwhile..
Lucy:
It sounded serious. We should check it out!
At ski hill....
Gary:
It looks like some sort of alien space-ship crashed!
Rookie:
It looks like a donut!
???:
Thats because it IS a donut
Rookie:
Woah! Who are you?
Donutella:
My name is Donutella. I was flying to my planet when I crashed here. All I need is some candy to make it work again!
Gary:
Hold up, how do we know we can trust you?
Donutella:
*hands Gary some coffee* A guy at a place called the Coffee Shop gave me this, I don't know what it is.
Gary:
Ok, we can trust you.